Living Information
Living Information
Mutilingual Living Information App
The Association of Local Authorities for International Relations (CLAIR) provides the iOS/Android app "MULTILINGUAL LIFE INFORMATION JAPAN LIFE GUIDE" that contains information in 14 languages for foreign residents to live in Japan free of charge. Click on the title above for details.
The Council of Local Authorities for International Relations (CLAIR) has released a free iOS/Android App "Japan Life Guide" which provides information in 14 languages about daily life for foreign residents living in Japan. You can use this app. as an everyday guide as well as when a disaster occurs. For more information, please click the above title
---
Ministry of Health, Lobour and Welfare
Please visit the following URL for the Covid-19's information.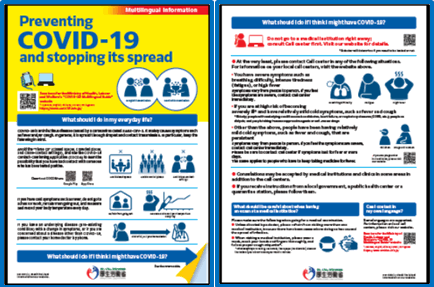 ---
Multilingual Guide for the Garbage Separation and Disposal in Kamagaya City
How to Separate and Dispose of Garbage Multilingual Version (English, Chinese, Korean/Vietnamese)
*KIFA cooperated in the creation of the Vietnamese version. Please visit the following URL for check the separation rules.
https://www.city.kamagaya.chiba.jp/smph/kurashi-tetsuzuki/gomi/dashikata/gaikokugogomitirasi.html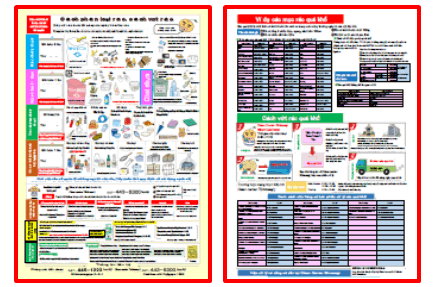 Disaster Prevention Emergenchies/Disasters
Check the key evacuation information and evacuate during a typhoon and or heavy rain.
To know Five-stage warning system based on information and necessary actions by residents. Click the images below.
For Preventing COVID-19 out breaks
---
Multicultural Center Hyogo Multilingual
Format on Emergency
http://www.tabunka.jp/hyogo/119/index.html
---


Kamagaya City Flood Hazard
Map
---


https://www.city.kamagaya.chiba.jp/ guidemap/kouzui_chizu.pdf


---
---
Helpline for Foreigners [よりそいホットライン]
http://279338.jp/yorisoi/foreign/index.html
Medical Information Medical
MULTILINGUAL MEDICAL QUESTIONNAIRE
Useful for conveying how you feel in your own language in case of sickness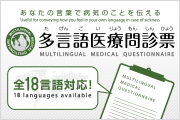 Legal Consultation

Free Legal Consultation for Foreign Residents
The Chiba Prefectural International Center offers free legal consultation for foreigners once a month. If you are a foreigner who has any problems, please feel free to consult with us. For details, please click on the title above.
Free legal consultation by Chiba international center once a month. For more informartion, please click the above title
Other Others