生活情報
生活情報 Living Information(せいかつじょうほう)
Mutilingual Living Information App
一般財団法人 自治体国際化協会(CLAIR/クレア)が、外国人住民が日本で生活するための情報を14言語で掲載したiOS/Androidアプリ「多言語生活情報JAPAN LIFE GUIDE」を無料で提供していますので、ご紹介します。詳細は上記タイトルをクリックで。
The Council of Local Authorities for International Relations (CLAIR) has released a free iOS/Android App "Japan Life Guide" which provides information in 14 languages about daily life for foreign residents living in Japan. You can use this app. as an everyday guide as well as when a disaster occurs. For more information, please click the above title
---
Ministry of Health, Lobour and Welfare
Please visit the following URL for the Covid-19's information.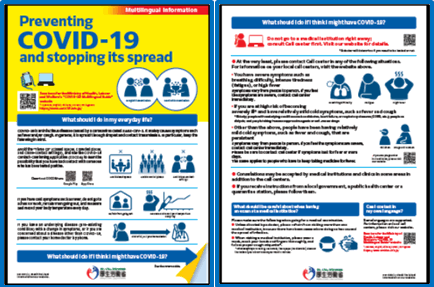 ---
Multilingual Guide for the Garbage Separation and Disposal in Kamagaya City
ゴミの分け方・出し方 多言語版(英語、中国語、ハングル・ベトナム語版)
*KIFAがベトナム語版作成に協力しました。Please visit the following URL for check the separation rules.
https://www.city.kamagaya.chiba.jp/smph/kurashi-tetsuzuki/gomi/dashikata/gaikokugogomitirasi.html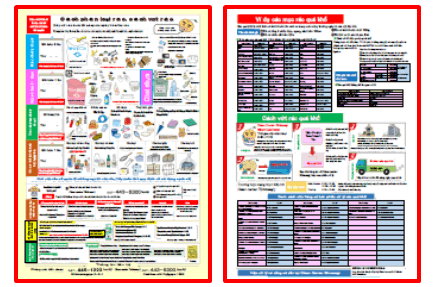 防災 Emergenchies/Disasters(ぼうさい)
Check the key evacuation information and evacuate during a typhoon and or heavy rain.
To know Five-stage warning system based on information and necessary actions by residents. Click the images below.
For Preventing COVID-19 out breaks
---
多文化共生センターひょうご多言語版救急時情報収集シート
(Multilingual Format on Emergency)
http://www.tabunka.jp/hyogo/119/index.html
---


鎌ケ谷市洪水ハザード マップ
Kamagaya City Flood Hazard Map
---


https://www.city.kamagaya.chiba.jp/ guidemap/kouzui_chizu.pdf


---
---
Helpline for Foreigners [よりそいホットライン]
http://279338.jp/yorisoi/foreign/index.html
医療情報 Medical(いりょうじょうほう)
MULTILINGUAL MEDICAL QUESTIONNAIRE
Useful for conveying how you feel in your own language in case of sickness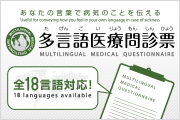 法律相談 Legal Consultation(ほうりつそうだん)
その他 Others(そのた)